The SmartLiberty team wishes you a Merry Christmas and a Happy New Year 2022 
Watch the video made by the SmartLiberty team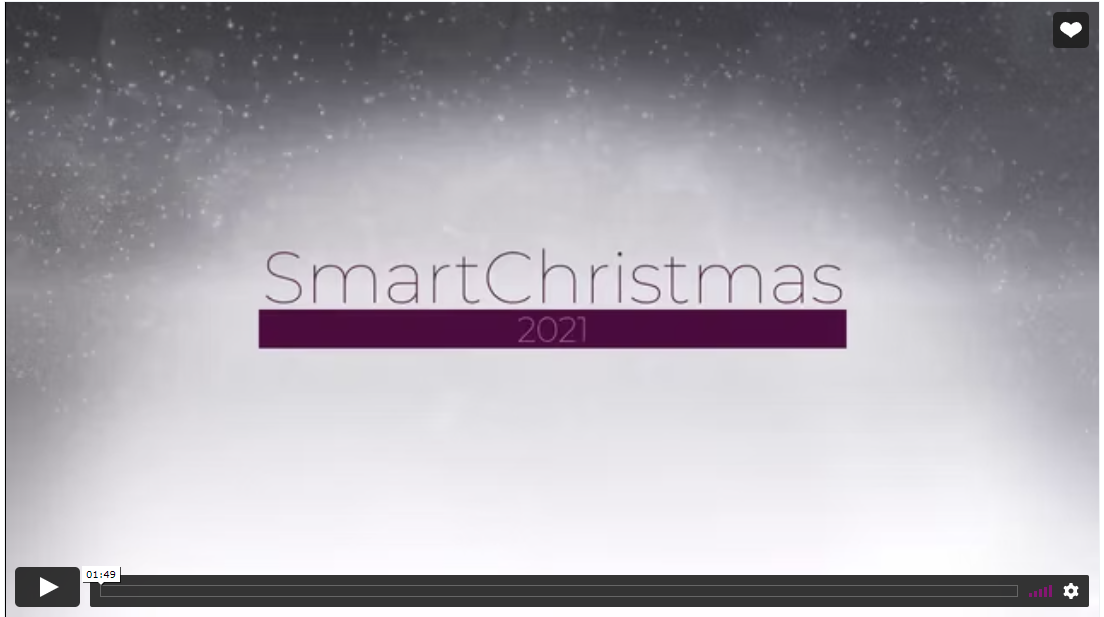 FR:

Chers clients, chers partenaires,
L'année 2021 est presque écoulée. Elle était aussi spéciale que la précédente. Une sorte de parc d'attractions géant, dans lequel un grand-huit nous a permis de prendre des hauteurs inespérées et de descendre des pentes vertigineuses. Nous avons fait des loopings, nous avons crié, nous avons ri, nous avons pleuré et avons vécu de vraies émotions intenses. Et comme lorsqu'on sort d'un parc d'attraction, qu'on entend au loin le bruit des carrousels, un sourire s'esquisse sur nos lèvres. C'est grâce à vous que nous avons vu ce sourire sur beaucoup de visages de résidents ou de patients cette année. Le travail que vous faites, est aussi précieux que la magie de Noël. Il est l'essence même de l'humanisme dont cette terre à besoin! Alors, du fond du cœur, merci à vous chers clients et chers partenaires d'avoir été là. Pour eux. Pour nous. Toute l'équipe SmartLiberty vous souhaite de Joyeuses Fêtes de fin d'année. Au plaisir de vous revoir en 2022!
DE:

Liebe Kunden, liebe Partner,
Das Jahr 2021 ist fast vorbei. Es war so besonders wie das vorherige. Eine Art grosser Vergnügungspark, in dem eine Achterbahn es uns ermöglichte, unerwartete Höhen zu erreichen und schwindelerregende Talfahrten zu machen. Wir haben Loopings gedreht, wir haben geschrien, wir haben gelacht, wir haben geweint und haben wirklich intensive Emotionen erlebt. Und wie wenn man einen Vergnügungspark verlässt, wenn wir in der Ferne das Geräusch der Karussells hören, erkennt man ein Lächeln auf unseren Lippen. Es ist Ihnen zu verdanken, dass wir dieses Lächeln in diesem Jahr auf vielen Gesichtern von Bewohnern oder Patienten gesehen haben. Die Arbeit, die sie tun, ist so kostbar wie die Magie von Weihnachten selbst. Sie ist die Essenz des Humanismus, den diese Welt braucht! Also, von ganzem Herzen, vielen Dank, liebe Kunden und Partner, dass Sie da sind. Für sie. Für uns. Das gesamte SmartLiberty-Team wünscht Ihnen eine frohe Weihnachtszeit. Wir freuen uns auf ein Wiedersehen im Jahr 2022!
EN:
Dear customers, dear partners,


The year 2021 is almost over. It was as special as the previous one. A kind of giant amusement park, in which a roller coaster allowed us to take unexpected heights and descend vertiginous slopes. We made loopings, we screamed, we laughed, we cried and experienced real intense emotions. And like when we leave an amusement park, when we hear in the distance the sound of carousels, a smile is sketched on our lips. It is thanks to you that we have seen this smile on many faces of residents or patients this year. The work you do is as precious as the magic of Christmas. It is the very essence of the humanism that this world needs! So, from the bottom of our heart, thank you, dear customers and partners, for being there. For them. For us. The entire SmartLiberty team wishes you a happy holiday season. We look forward to seeing you again in 2022!