Integration with
Gets

Medical Safety Systems

Gets Medical's first nurse call system, integrated with the motica app, was installed early 2022. The integration allows alarms to be received directly on smartphones, and interconnects the two systems for even greater efficiency so that more time is available for what really matters, caring for and spending time with residents.



How to install motica?
The following schematic diagram shows you how the networking between the motica app and the Gets-call system is implemented. Thanks to the certified interface between your GEC and the motica app, networking is simple. This means that nothing stands in the way of the digitalisation of your facility and the use of smartphones with the motica app and all its functions.

Find all the functions of this integration here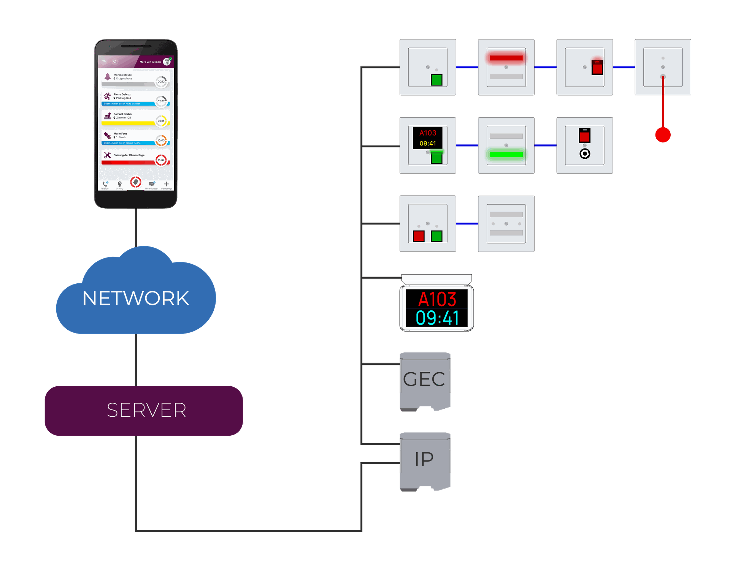 Requirements for the installation
Modernize your GETS system
Install the new GEC in your building.

Smartphones for the staff
Equip caregivers with smartphones authorized to use the app.


Certified Interface
For the connection to the server, a certified interface between the two systems is required.


3G, 4G, 5G Network
Your building must have a GSM, 3G, 4G or 5G network covering your entire establishment. If this is not the case, "inhouse GSM" solutions are available.

WLAN in the whole building
Optional, to ensure redundancy and security in your facility. You need WLAN in all areas.


Alarm matrix
Define an alarm matrix to send the right information to the right person at all times.
You have another nurse call system?

new integrations are possible
contact us for more information
Interested?
Your establishment is equipped with a Gets nurse call system and you want the motica app. Contact your partner and ask them for an offer.
Here you can find all our approved partners. Our network of partners is constantly expanding