All alarms on one platform, transmitted to the right people in real time.

Highly secure platform and GDPR compliant.

Connected staff reachable in one click and all your contacts on hand.


Flashlight, stopwatch, specialized camera, all the tools on your smartphone.

Quickly find the history of alarms, you can sort them as you wish and thus reassure the members of the family.

Real-time transmission of important information to your teams. Choose your recipients and the duration of your message.

Your care records
Your care record applications are also integrated with the motica app. You can access each patient's file from your smartphone. This simplifies your daily work.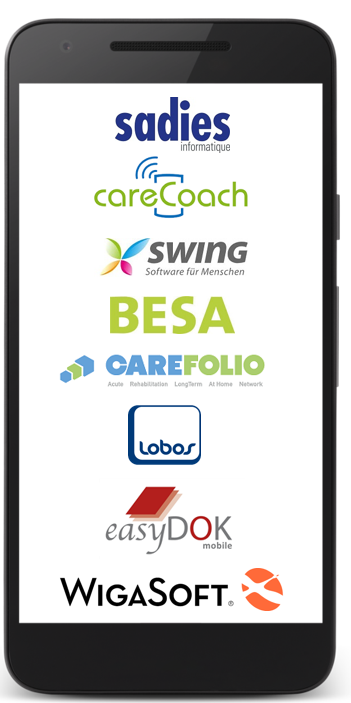 The motica App reveals itself
Une meilleure visibilité des alarmes
Toutes les alarmes qui vous sont destinées sur un même écran. Indication du statut et de l'escalation ainsi qu'une fonction de prise en charge pour éviter que plusieurs soignants se déplacent pour la même alarme. Cela vous fait gagner jusqu'à 800 minutes par jour.
un menu intuitif et facile
Un historique pour une meilleure visibilité des actions et un menu d'administration du système, simple et efficace
des outils regroupés dans une seule app.

Grâce à l'application toutes vos communications sont unifiées et tous les outils sont regroupés sur votre smartphone. Cela vous évite de devoir chercher les outils nécessaires et vous gagnez jusqu'à 300 minutes par jour pour les soins grâce à l'app motica.
Précédent
Suivant
Eine bessere Übersicht der Alarme

Alle für Sie relevanten Alarme auf einem einzigen Bildschirm. Status- und Eskalationsanzeige sowie eine Abholfunktion, um unnötige Wege zu vermeiden und bis zu 800 Minuten pro Tag einzusparen.

ein intuitives und einfaches Menü
Eine Historie zur besseren Übersicht über die Aktionen und ein einfaches und effizientes Menü zur Systemverwaltung

Werkzeuge in einer einzigen App zusammengefasst.

Mit der App wird Ihre gesamte Kommunikation vereinheitlicht und alle Tools sind auf Ihrem Smartphone zusammengefasst. Sparen Sie mit der motica care App bis zu 300 Minuten pro Tag.

Précédent
Suivant
A better visibility of the alarms

All your alarms on one screen. Indication of status and escalation as well as a take-over function to avoid unnecessary trips and save up to 800 minutes per day.

an intuitive and easy menu

A history for a better visibility of actions and a simple and efficient system administration menu

All tools gathered in one app
With the app all your communications are unified and all tools are grouped on your smartphone. Save up to 300 minutes per day with the motica app.

Précédent
Suivant
Take-over function

Escalation level of alarms

Dynamic group allocation

Voice output of alarms
Les alarmes telles que les appels résidents sont transmises de façon sécurisée sur les smartphones du groupe de soignants responsable du résident. La prise en charge peut être signalée afin de s'assurer qu'un seul soignant se déplace, ce qui améliore l'efficience de l'équipe.
The temporal, coloured and segmented representation of the alarms makes it easy to distinguish escalation levels. Different levels of escalation can be assigned to each type of alarm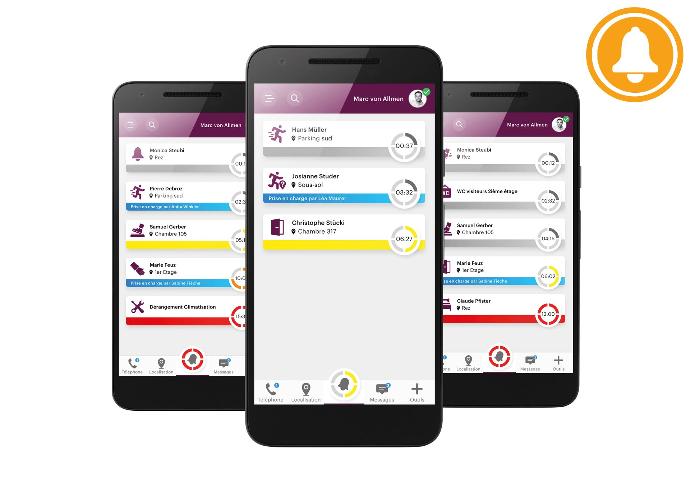 Security and data protection
GDPR compliant




Consideration of the Adult protection law




Fire regulations




Highly secure Samsung Knox platform



The use of smartphones as a work tool requires maximum security of the device but also of the motica app. This is why we recommend working with Samsung, which allows the activation of a security platform.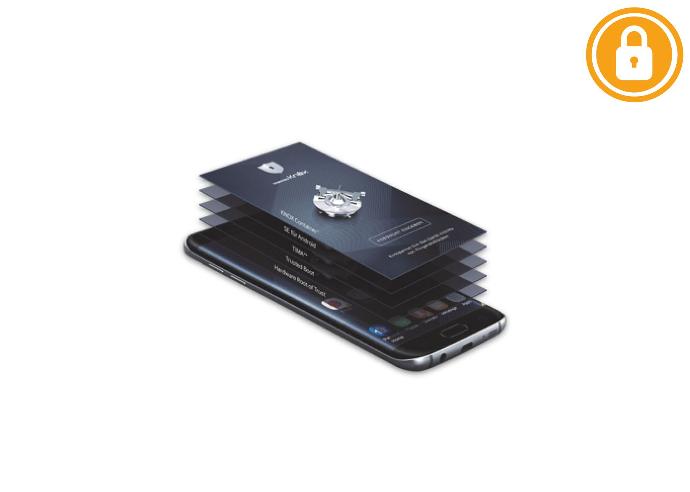 Centralized directory




Grouping by user roles and groups




Overview of connected staff and their status
The motica application turns the smartphone into a suitable working tool for long-term care. Currently connected staff can be reached with a click, eliminating the need to remember internal phone numbers.
Grâce à l'affichage en temps réel des statuts des personnes connectées, le nombre de dérangements inopportuns diminue fortement. La recherche d'une personne par nom, par groupe ou par rôle est idéale pour rapidement trouver le bon interlocuteur disponible.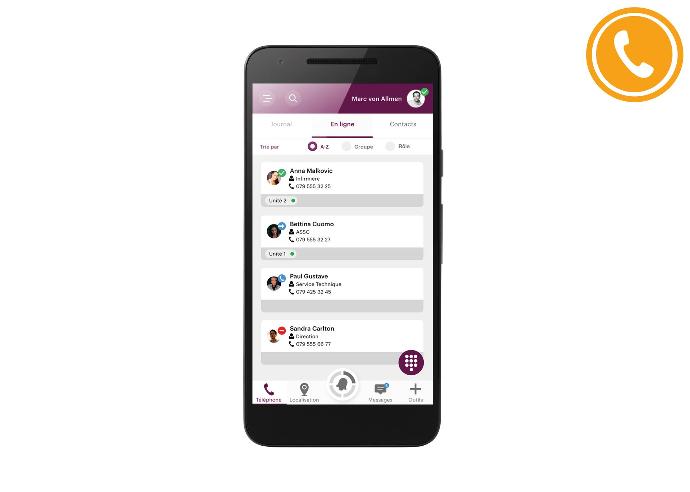 Care photos (wounds)




Stopwatch with sound intervals




Flashlight

Photos for maintenance teams

Photos for animation
Quick access to the Flashlight, picture taking for wound documentation, technical service or animation, as well as the stopwatch with pulse measurement function, make the daily work of the nursing staff easier and help your facility to save valuable time for care every day.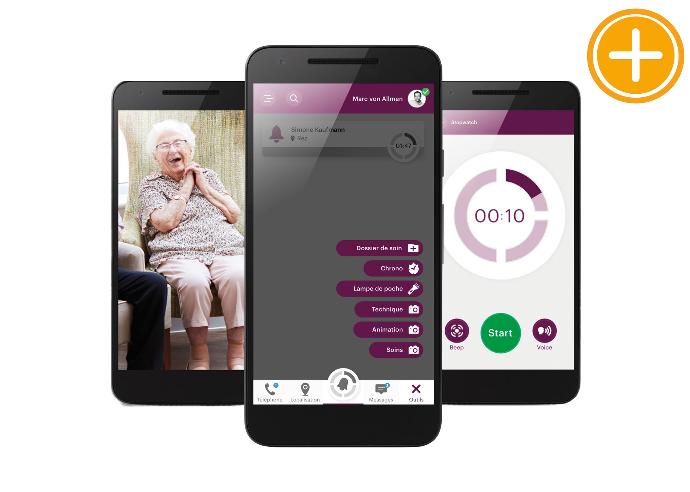 Traceability of alarm procedures




Simple search and filter function

Easy administration tool

Management of contacts, residents and staff in one place
L'historique vous permet de tracer les actions pour chaque alarme et chaque résident. Un outil qui vous permet de rapidement rassurer les familles. L'outil administration donne un accès rapide aux actions sur un résident, un contact ou le personnel soignant. Gérez vos résidents, votre personnel, vos contacts ou vos visiteurs en quelques clics directement sur votre smartphone.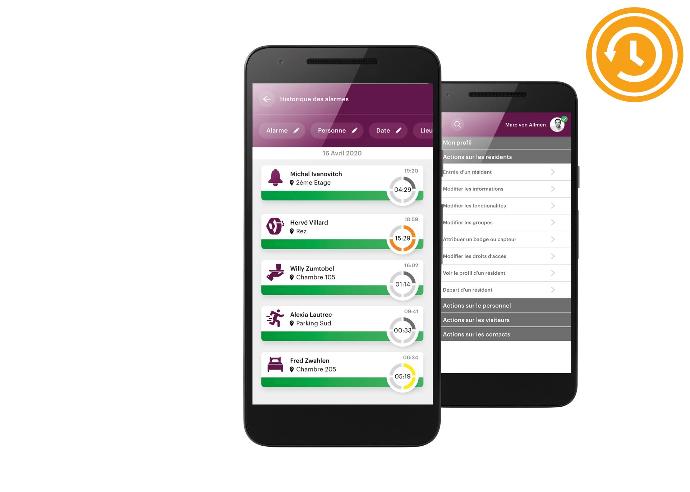 Send information in real time to your teams

One-way transmission of messages

Time validity of messages

Priority messages (with alarm sounds)



Thanks to the messaging function, important information can now be transmitted directly to your teams' smartphones. This is the ideal way to avoid long phone calls or e-mails that are not read in real time.
Messages can be addressed to everyone, to a group or to a specific role. They remain displayed only as long as they are valid, which allows people starting their day to be immediately up to date with the information.